---
Mintimal
Packaging, Branding
OVERVIEW

Mintimal Naturals is an all-natural oral care brand tackling package sustainability, one toothpaste tube at a time. It's estimated that by 2050 there will be more plastic than fish
in the sea. By producing sustainable packaging made of 100% Tetra Pak®, Mintimal aims to help eliminate the over 1 billion toothpaste tubes thrown out every year.
CHALLENGE
In a market that's constantly shifting into new and more sustainable methods, oral healthcare has remained static. Mintimal's goal is to create a sustainable package design that's both unique and user-friendly.
APPROACH
Not only does the brand center itself on sustainable living, it has to convey these values, too. By using simple and bright design, the branding aims to reflect Mintimal's ocean advocacy through its vibrant illustration, simple packaging, and an optimistic voice.
---
---
PACKAGING
Traditional toothpaste packaging has remained static in an era of innovation. Currently, there are already several recyclable alternatives to the plastic coated tubes that currently dominate the industry. Containers like milk cartons—typically composed of Tetra Pak®—are largely recyclable in addition to being food-grade material.

By using a design that allows the toothpaste tube to be its own container, this method additionally eliminates the excess waste created by toothpaste boxes.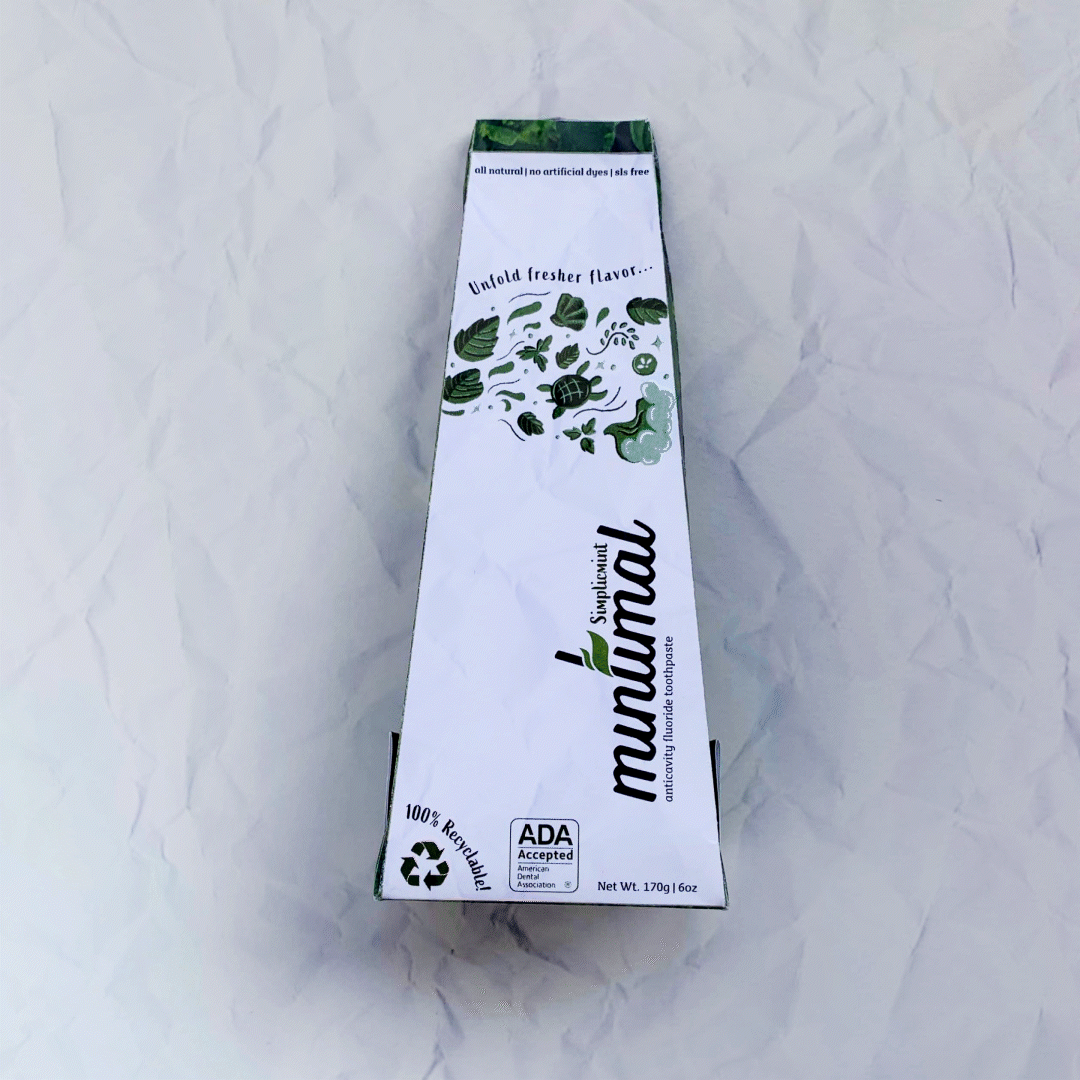 ---
BRAND VOICE
Mintimal's brand voice centers around its passion for eco-sustainability and its desire to present a positive and proactive stance on the future.

By incorporating purposeful messages and promoting community involvement, the brand evokes a strong sense of hope. The overall palette is light-hearted, with an emphasis on pastel blues and greens.
---
---